2019 Alti Petit Verdot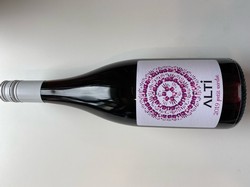 ALTi is a small range of wines we have made under a new brand. These wines are all "alternative" styles, giving Lauren creative freedom to break all the rules of winemaking and create unique wines. We will make small quantities of different things each year, a great way for us to experiment and learn, and have a lot of fun. All of the wines are unfined and unfiltered, hand bottled and hand labelled to give a clear representation of our winemaking philosophy and values.
The great thing is these wines are not only unique, but incredibly delicious as well.
Lauren has always wanted to make a straight Petit Verdot since trying some great examples when she was in USA. This is a grape that is super late ripening, in sugar and in phenolic ripeness. Meaning it is not something you can make year in year out. We wanted to keep this has pure as possible, so this was destemmed, natural ferment and has been in a neutral barrel ageing gracefully for 18months.
This is a big red! Its cuddly, rich and bold, unfined and unfiltered.
Wine Specs
Appellation
Bridge Pa Triangle Wine District
Product Reviews