2019 Alti Reisling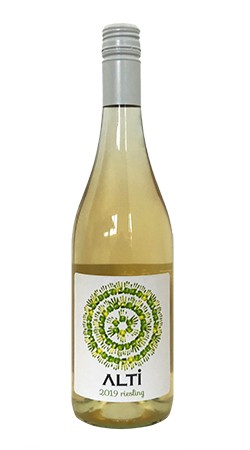 ALTi is a small range of wines we have made under a new brand. These wines are all "alternative" styles, giving our Winemakers - Lauren and Lochy, creative freedom to break all the rules of winemaking and create unique wines. We will make small quantities of different things each year, a great way for us to experiment and learn, and have a lot of fun. All of the wines are unfined and unfiltered, hand bottled and hand labelled to give a clear representation of our winemaking philosophy and values.
The great thing is these wines are not only unique, but incredibly delicious as well.
Riesling is a wine that can be made in range of styles from bone dry through to super sweet. We love the bone dry, zingy refreshing style that you can sit in the sun all day and drink, so that is what we have made! 1/3 of this was skin fermented to give the feeling of chalk on the palate. It also adds to the intense lime characters on the nose. The other 2/3 was very clean juice. This wine was a pleasure to make and the ideal summer drinking situation was never far from any decision made.
Only 480 bottled produced.
Wine Specs
Appellation
Bridge Pa Triangle Wine District