Introducing Junction Wines @ St Georges Restaurant
Friday 15th July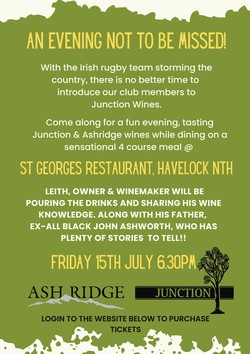 An evening introducing Junction Wines to our Ash Ridge Club members.
Come along and enjoy an entertaining evening tasting stunning Junction & Ash Ridge Wines.
Leith will be filling your glasses and sharing his wine knowledge, alongside his Dad ex All Black John Ashworth, who will keep you very entertained with stories from his playing days.
You will enjoy a fabulous 4 course meal especially created by Award-winning Head Chef Francky, matching and complimenting our wines.
St Georges delights guests with innovative, enticing, cuisine influenced by nature's diverse seasonal, organic produce. All ingredients are sourced from passionate Hawke's Bay growers and suppliers with sustainability in mind.
When: Friday 15th July 6.30pm
Where: St Georges Restuarant, 452 St Georges Road, Hastings.
~Tickets are limited~
We look forward to hosting you for this fabulous evening!
The reciept of your purchase is your ticket, please bring this along with you.
Product Reviews