2013 Blend Magnum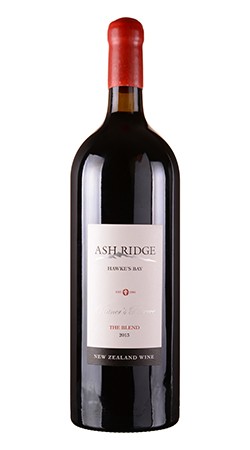 This was the first vintage
Fruit:
100% Bridge Pa Triangle
Merlot 38.5%, Cabernet Sauvignon 30.8%, Syrah 15.3%, Malbec 7.7%, Cabernet Franc 7.7%
Winemaking:
Each component of the wine was fermented individually, using the traditional punch down method twice a day.
Each component was aged in barrel for 12 months before deciding on the final blend and proportions of each.
This wine is unfined and unfiltered to give a true expression of the vintage and will keep the wine to its full potential for longer.
It was further aged another 12 months in bottle before release.
Harvested: 3rd-19th April 2013
Bottled: 6th August 2014
Alcohol: 13.2%
pH: 3.82
Sensory Evaluation:
Colour:
Aroma:
Palate: Mouthfilling and Savoury, with strong, berryish, plummy, spicy flavours, a hint of dark chocolate, good complexity and ripe, supple tannin.
Food Matches:
Fantastic wine some vintage cheddar cheese, or dark chocolate and also with a roast beef.
Cellaring:
Will reward careful cellaring for 7+ years.
Wine Specs
Appellation
Bridge Pa Triangle Wine District