2018 Estate Pinot Gris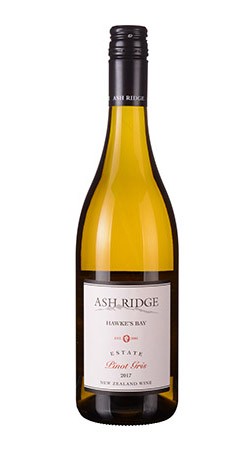 The second Pinot Gris produced under the Ash Ridge label the goal here is to create a Pinot Gris with real texture. A wine that is worthy of ageing, something a little different from most of the Pinot Gris in New Zealand. We look to Alsace for inspiration on this complex, textured style of Pinot Gris.
Fruit:
100% Pinot Gris
Winemaking:
The Pinot Gris was picked from three vineyards from around Hawkes Bay. One is Esk Valley, while the other two from the Maraekakao region. Each batch was split in two, based on a press cut. Made up of six batches, comprising of 80% barrel fernemted and 20% tank fermented.
The barrel portion was allowed to complete primary fermentation in barrel and a portion also underwent secondary malolactic fermentation.
The tank portion was fermented at a cool temperature to ensure fruitiness, and was left with some residual sugar (RS).
Both batches sat on their lees for 4months to give texture and body to the wine.
After the blend this wine has 5g/L RS.
Alcohol: 12%
pH: 3.55
Sensory Evaluation:
Colour: Golden straw
Aroma: Perfume, florals and spicy poached nashi pear
Palate: classical pear and white fleshy peach with some oak and creamy malo characters to add complexity and toasty notes.
Food Matches:
This wine is equally at home with Asian cuisine as it is taken on a picnic with simple fresh clean flavours.
Cellaring:
Although this wine is drinking well now, we feel this will continue to develop over the next 3 – 5 years.
Wine Specs
Appellation
Bridge Pa Triangle Wine District