2019 Alti Zero Syrah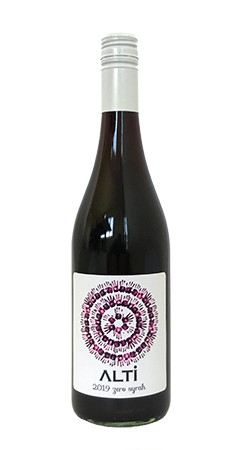 ALTi is a small range of wines we have made under a new brand. These wines are all "alternative" styles, giving our Winemakers - Lauren and Lochy, creative freedom to break all the rules of winemaking and create unique wines. We will make small quantities of different things each year, a great way for us to experiment and learn, and have a lot of fun. All of the wines are unfined and unfiltered, hand bottled and hand labelled to give a clear representation of our winemaking philosophy and values.
The great thing is these wines are not only unique, but incredibly delicious as well.
Making a wine that is drinkable with nothing but grapes was a challenge, but one we are happy to undergo! Made from a Syrah clone called 877, which we planted only three rows of 7 years ago, which was our Winemaker Laurens first ever job, so naturally has a soft spot for these vines. We picked 40 bunches three days before we harvested it to start a natural 'bucket' fermentation from the yeast on the grape skins. This wine has had absolutely nothing added to it. No SO2, no copper, no yeast, no oak.
100% No additives, Sulphur Free, 360 bottles produced.
Wine Specs
Appellation
Bridge Pa Triangle Wine District
Product Reviews
Pam Welch-Cropp
(21/01/2020 at 11:23 AM)
First wine I have been able to drink in a long time that I don't have a reaction! For many years I have been a hardened Chardonnay Girl but sulfite allergy reared its head. This wine is amazing and so pure it doesn't make me react. I had switched to spirits but am now a convert to this gorgeous red. Thanks sooo much team!