2020 Alti Gamay Noir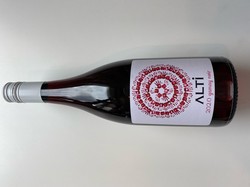 ALTi is a small range of wines we have made under a new brand. These wines are all "alternative" styles, giving our Winemakers - Lauren and Lochy, creative freedom to break all the rules of winemaking and create unique wines. We will make small quantities of different things each year, a great way for us to experiment and learn, and have a lot of fun. All of the wines are unfined and unfiltered, hand bottled and hand labelled to give a clear representation of our winemaking philosophy and values.
The great thing is these wines are not only unique, but incredibly delicious as well.
We wanted to create a proper Carbonic style of Gamay. It was inspired by talking to Rippon about how they manage their one.
We had a large 1cm hose which was attached to a white fermenting tank, before putting the fruit in the tank we made holes in the bottom half of the hose, 10cm apart. It was made in a circle on the bottom of the tank, and then the holes continued up the hose to pump as much CO2 as possible throughout all of the whole bunches. We had true carbonic action for 15days before we foot crushed to kick off the ferment properly. It was pressed off after 37days on skins.
This wine can be served chilled, it is light with great structure and leaps out of the glass. Unfined and Unfiltered.
Wine Specs
Appellation
Bridge Pa Triangle Wine District