2020 Alti Pinot Gris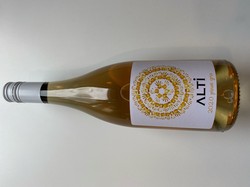 ALTi is a small range of wines we have made under a new brand. These wines are all "alternative" styles, giving Lauren, creative freedom to break all the rules of winemaking and create unique wines. We will make small quantities of different things each year, a great way for us to experiment and learn, and have a lot of fun. All of the wines are unfined and unfiltered, hand bottled and hand labelled to give a clear representation of our winemaking philosophy and values.
The great thing is these wines are not only unique, but incredibly delicious as well.
When planning this wine, we were wanting to make a skin soaked Pinot Gris that was lush with sweetness and had an oily texture.
During the process, it didn't stop fermentation when we tried, and on top it then put itself through malo too!
It is known to be a little rascal! Turns out we are pleased with the result. It was soaking on skins for 7 days before we pressed it off to ferment on full solids. Where it sat for 6months post it finishing primary ferment and then secondary. It has that oily texture yet surprising pure with a lovely little structure powered but the skin contact. Best served at 13-15 degrees. And will continue to open in the glass.
Unfined and Unfiltered.
Product Reviews