Ariel Champagne Breakfast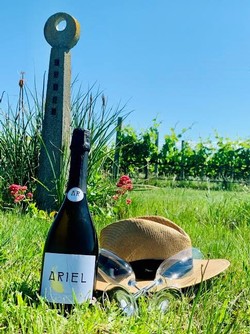 Ariel Champagne Breakfast
You're invited to our
SPECIAL PRE RELEASE CHAMPAGNE BREAKFAST TO LAUNCH ARIEL
Sunday 6th December 9:30am – 11am
ASH RIDGE WINERY
Come join us to celebrate the exclusive pre release of our long awaited ARIEL Blanc de Blanc Methode Traditionnelle 2018. We have named her ARIEL after the yacht Chris raced around the world in 1996.
On Sunday 6th December 9:30am – 11am we are hosting a Champagne Breakfast in our Garden for you, our fellow Ash Ridge wine lovers.
Three years in the making, an immense amount of hard work and love has produced a splendid Blanc de Blanc that we simply could not be prouder of.
With only 900 bottles produced this is not going to last long, what a perfect way to celebrate Christmas and the New Years with family and friends.
Be the first 50 people to taste this magnificent bubbles paired with an array of delicious pastries hand crafted by Monsieur Macaron, Hawkes Bays' premium French baker to accompany your first taste of the journey that is ARIEL, along with the first opportunity to purchase before it is released to the public.
Cost - $39 per person
What is included:
Champagne breakfast with the winemaker herself, the newly married Lauren Swift will be on hand to give you a guided description of the whole sparking wine process.
2 delicious glasses of Ariel,
4 mini pasties and 2 macaroons per person,
The change to taste and purchase ARIEL before anyone else, at YOUR WINE DISCOUNT!
BUY your tickets today, only 50 places available.