Gift Voucher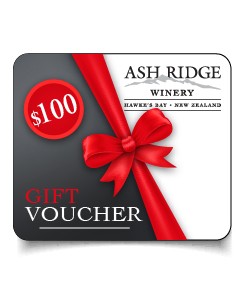 Choose an amount between $50 and $250 that can be used to buy wine or dine at Ash Ridge's Cellar Door.
HOW TO PURCHASE
To order online, please choose the quantity of the denomination you would like and press add to cart..
If you need multiple Gift Cards in different denominations, just press the add to cart button alongside each denomination you would like. If you require more of one denomination, just increase the quantity.
All Gift Cards have a 24 month expiry date from the date we issue the Gift Card.
You will receive an order confirmation in your email regarding the gift card purchase that you just made. The recipient will receive an email stating that you purchased a gift card for them. This email will include a gift message (if one was written) as well as the unique gift card code that they will use electronically to purchase off the website.
You can use the unique gift card code multiple times until the full value of the gift card has been used.
You can redeem your gift card by purchasing products through our website and entering the 16-digit code in the promo box at checkout.
You can also redeem your gift voucher at Ash Ridge's Cellar door. To do so, bring a printout of your gift voucher email when you come to Ash Ridge and we will apply the voucher towards whatever you purchase in our shop or from our Cellar Door menu.
PLEASE NOTE
Only a single gift card can be used per transaction.
Product Reviews
iqezawu
(03/02/2020 at 8:55 PM)
http://mewkid.net/who-is-xandra/ - Amoxicillin 500 Mg Amoxicillin 500 Mg iow.novs.ashridgewines.com.sgc.io http://mewkid.net/who-is-xandra/
iceddible
(25/12/2020 at 5:47 AM)
Dutasteride Best Website Find Suinnase cialis tadalafil SyncVerync levitra 10 generique